Sport Surfaces
The sport surface flooring of tennis courts is prepared by making use of the Virgin Polypropylene Copolymer material such as Deckshield ID. They are constructed with balanced modular surface intertwining flooring that lessens shock.
These sports courts
are prepared by experts who have the acumen and knowledge to supply their customers with an extensive array of tennis court flooring. Before the delivery, these products are examined according to the global standards of quality. You can as well, customize these tennis courts flooring as per your specifications and requirements. Our standard specification is Deckshield ID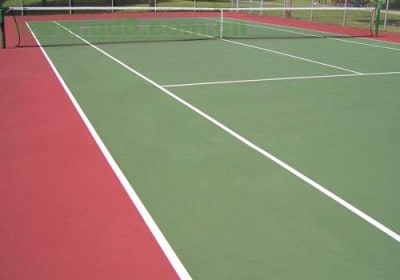 Usually, the flooring system of tennis courts are designed to be free from termites and simple to maintain. These flooring are performance oriented and polished in an intricate manner. The flooring is designed with smooth surface and at the same time as they offer an immense traction to players. This washable all weather tennis court flooring must be installed by an approved epoxy flooring applicator and have the dimensional accuracy, according to your requirements. They are personalised, quality centric and they are designed to adapt to all types of weather. These tennis courts are polished by making use of high-quality, harmless chemicals that protect the floor.
There is a variety of flooring, designed for gymnasiums to meet the demands of cardio, Group X, and weight training programs. The flooring of gymnasiums is made up of a variety of rubber fitness flooring materials that can provide an excellent grip to people, doing an array of fitness routines. All the courts in gymnasiums are designed to customise, according to the requirements of users. These fitness floors are optimised using Flowsport to make sure that the performance and safety of participants in all workouts, ranging from Pilates to spinning, aerobics to yoga, circuit preparation to weight preparation.
The floors in gymnasiums are designed to achieve the maximum comfort and protection and to transform the energy of each participant and therefore allow better performance and satisfaction during healthy exercises. The floor in a gymnasium is a way of contributing to the facilities, defining space and changing it into a reliable area in which to invigorate your setting.
The vital considerations for outdoor basketball flooring include optimal surface friction, ball rebound, and a level of shock absorption. However, excluding performance features, decisions regarding basketball floors regularly count on several factors.
Some sport surface floors of the basketball game are required to accommodate other games and non-sporting activities. If that is the situation, a flexible sports surface may be the best floor option. As defensive coverings are not a requirement, these surfaces normally require a minimum effort in changing to other activities. There are several floor types, such as Flowsport stand for this kind of flooring. Alternatively, if the floor coating is devoted almost wholly to indoor basketball, a maple hardwood court, such as ClutchCourt, which is made of maple hardwood, which might be another option.